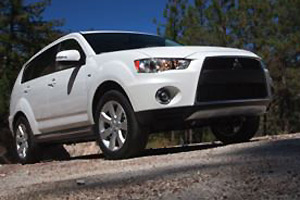 To hear the media tell it, everyone wanted a hulking, gas-guzzling Cadillac Escalade before the recession hit. Now, humbled, we all want a tiny, fuel-sipping Nissan Versa. Neither picture is quite true.
As many car-shopping Americans have discovered, the right solution for many of us splits the difference – a compact SUV. Today's small sport 'utes are marvels. Most are built on the same platforms as small or midsize cars, making them as easy to drive as sedans – and just as fuel-efficient. The average fuel economy in the Affordable Compact SUV class is about 21 mpg in the city and almost 27 mpg on the highway – similar to what most midsize cars achieve.
Yet SUVs offer more cargo capacity, spacious seating, and a driving position that lets you see more of the road. And, in most cases, they're available with the added safety of all-wheel drive. In many parts of the country this winter, you only have to look out the window to understand the advantage of that.
Yes, today's compact SUVs are a marvel — except, of course, for the few that hook a vacuum hose to your wallet and suck. For years.
To help you spot those, we've compared the sticker price of each small SUV to the cost of owning and operating it for five years. We've used Total Cost of Ownership (TCO) data from the leading car value analysts at IntelliChoice. They rate each vehicle, using factors like depreciation, fuel costs and average cost of maintenance and upkeep, to find the best long-term values – and the worst.
The results can be shocking. Some small sport 'utes can cost more than twice their sticker price within the first five years. In every case, however, there's an alternative that won't sink your monthly budget. We've look at IntelliChoice data, and our own vehicle rankings, to find a wallet-friendly alternative to each budget-buster.
In some cases, that means we've suggested a car with a higher starting price. But in every case, the cars we suggest have lower long-term costs of ownership. Sometimes, paying a little more up front can help you save money in the long run.
Mitsubishi Outlander
MSRP: $20,840 – $29,250
The Outlander has a bold new look, with a snarling, outsized grille and angrily canted headlights. It looks mad. It looks poised to eat the car in front of it. It looks cool. It's also sporty, with sharp handling. And with one of the longest warranties in its class, it seems like a good deal — until you run the numbers.
IntelliChoice gives the Outlander a value rating of "Poor." Its TCO ranges from $38,938 to $39, 545 — that's nearly double the car's base sticker price. Heavy depreciation and high insurance costs are the culprit – and there's nothing you can do about those.
Better Buy: If an aggressive-looking SUV is what you want, buy American. The all-new GMC Terrain has a distinctive, muscular look. It earns an "Above Average" rating from IntelliChoice – and though it's more expensive up front, it ultimately costs less to own than the least expensive Outlander. Its TCO starts at just $35,202. MSRP from $24,250.
Suzuki Grand Vitara
MSRP: $18,999 – $26,999
The Suzuki Grand Vitara, at first glance, looks like a terrific bargain. It's one of the least expensive compact SUVs on the market. It offers a long list of standard features, including some equipment that competitors charge extra for, like steering wheel-mounted stereo controls and keyless entry. And it comes standard with a V6, while most competitors offer just a four-cylinder engine on their base model.
Yet IntelliChoice says the Vitara ain't so Grand. They rate it a "Poor" value in every trim level, with a TCO ranging from $36,205 to $42,226. It's yet another SUV that costs nearly twice over the long run as what its sticker says. The Grand Vitara depreciates much faster than most of its competition, costs more to insure, more to repair, more to fuel, and more to maintain.
Better Buy: IntelliChoice names the Honda CR-V the "Best Overall Value of the Year" in the Compact SUV Class. It is cheaper than the class average in every form of expense, from resale value to repair and insurance costs. Its sticker price ranges from $21,545 to $29,575, and its five-year TCO starts at just $30,179. MSRP from $21,545.
Kia Sportage
MSRP: $16,995 – $23,495
The Kia Sportage is the least expensive vehicle in the small SUV class. Reviewers like its sharp handling and say its interior is a cut above what most buyers expect from Kia, with a stylish design and quality materials.
Yet the Sportage earns a "Poor" value rating from IntelliChoice. Its TCO ranges from $31,423 to $37,333. As with many Kia products, depreciation is the biggest problem – the Sportage can lose an incredible 64 percent of its value over five years. That's well above the class average.
Better Buy: Last year's Motor Trend "Sport Utility of the Year," the Subaru Forester is more expensive than the Sportage, but in the long run, will cost less. Its TCO starts at just $30,818, and earns the Subaru an "Above Average" rating from IntelliChoice. Yet the Forester offers more cargo space, sportier handling, and when it comes time to replace it, much higher resale value than the Sportage. MSRP from $20,295
Jeep Liberty
MSRP: $23,255 – $28,735
The Jeep Liberty offers real off-road performance, iconic Jeep styling and the classic touch of an optional canvas roof. If your plans take you off-road regularly, it looks like a cool option.
However, of the 22 small SUVs we analyzed, the Jeep Liberty has the highest Total Cost of Ownership, according to IntelliChoice. Even the least expensive Liberty has a TCO of $39,335, while a fully-equipped model can run as high as $44,196 over five years. That translates to a "Poor" rating at every trim level. Exceptionally high fuel costs, hefty depreciation and expensive maintenance explain the jaw-dropping numbers.

Better Buy: If you must have that macho Jeep styling and serious off-road capability, you don't have to go broke to get it. You just have to turn around and walk a few steps in the Jeep showroom. For just as a Jeep SUV has the highest TCO in its class, another Jeep SUV has the lowest. The five-year cost of owning a Jeep Patriot runs as low as $29,135, earning the car an "Above Average" rating from IntelliChoice. The Patriot is as capable as the Liberty on the trail, yet it costs less to fuel, maintain and insure. It's less expensive up front, too. MSRP from $17,795