Spotting locations in The Sopranos' opening credits has become a sport for diehard fans–but for those of you who don't get to Northern New Jersey as often as you'd like, here is a quick tour of some of the spots you see as Tony heads home each week…
"The New Jersey Turnpike, at least the northern part, is an adventure. Its abstract expressionist shapes, strange lines and angles, concentration of various transport, kinetic energy and tumult, wildlife and history, the things you see from it, its concrete and iron and rubber, its noise and smells and speed, make it a thing of gritty beauty." — Jeffrey Page, The Bergen Record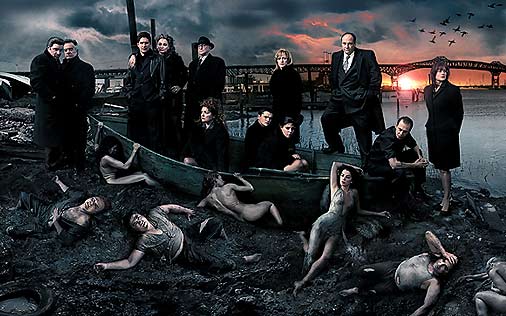 Shot: Lincoln Tunnel, tiled ceiling flicks by as Tony heads from New York to Jersey.
The Lincoln is the world's busiest tunnel and was the first to be built without any worker getting killed.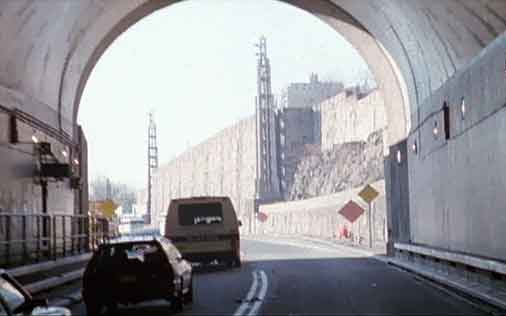 Shot: The Helix ramp, with Manhattan skyline
"New Jersey is like a beer barrel, tapped at both ends, with all the live beer running into Philadelphia and New York." — Ben Franklin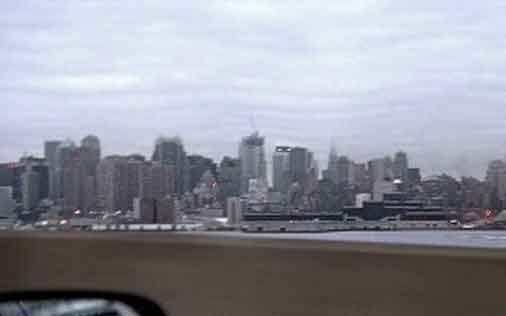 Shot: Toll to Enter the New Jersey Turnpike, Tony grabs ticket
The NJ Turnpike is the busiest roadway in the U.S., but Chuck Berry considered it a symbol of freedom in his song "You Can't Catch Me"; John Gotti once stole a $500,000 shipment of cigarettes while a trucker ate at a restaurant on the Turnpike.
Shot: HYDRO P UF Plant, Newark
This famously decrepit facility, which produced Hydro Pruf, a water repellent, was abandoned in 1988. New Jersey has the most toxic waste sites in the country.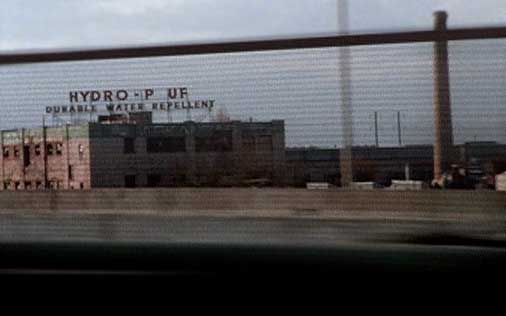 Shot: Newark airport, Statue of Liberty
The Turnpike is 16 lanes wide as it passes Newark's "Liberty" airport. At the North Avenue overpass, you can walk over it.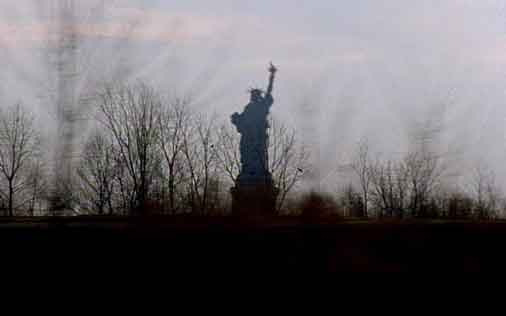 Shot: Port Newark
In the late 80's, the Gambino family took over control of the lucrative New Jersey waterfront rackets at Port Elizabeth and Port Newark, which together handle approximately 70% of the general cargo entering New York Harbor.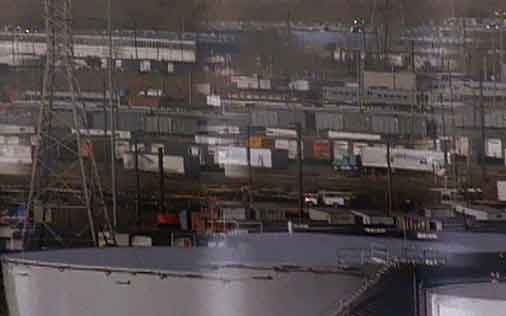 Shot: General Pulaski Skyway
The construction of the impressive Pulaski Skyway in 1930 was marred by 15 accidental deaths and one labor-related murder. Missing teamster Jimmy Hoffa was also disposed of underneath the span, according to one rumor.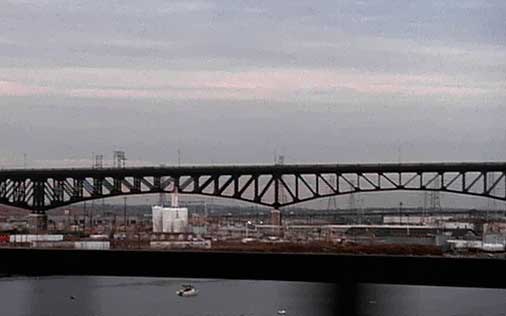 Shot: Cathedral Basilica of the Sacred Heart, Newark
The site of a papal visit in 1995. About one-quarter of New Jerseans are Roman Catholic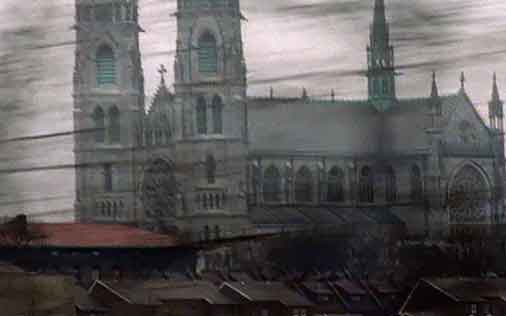 Shot: The Meadowlands
"This is a state where people go to a landfill next to a turnpike that's on fire on alternate weekends to cheer a team from New York." — Stuart Stevens, Republican Consultant.
The Meadowlands is another rumored final resting place for teamster Jimmy Hoffa.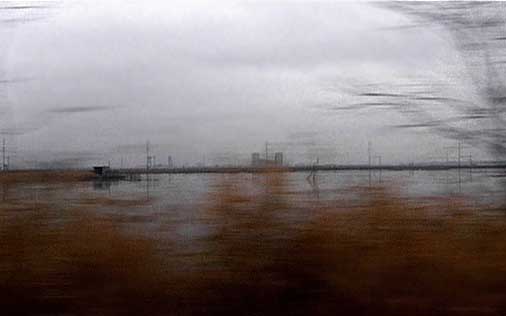 Shot: Wilson's Carpet Giant, Jersey City
So called "Muffler Men" statues were turned out by the thousands in the 60s and 70s. This "Bunyon" model was purchased second-hand by Wilson's Carpet & Furniture; a separate pair of legs-in pink trousers, kept out back-is brought out for half-price sales.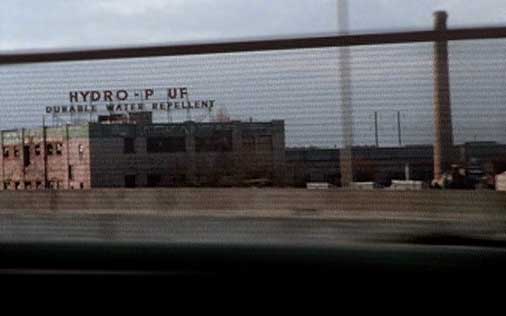 Shot: Cemetery in North Arlington
This cemetery is located on the north side of Route 7 in North Arlington.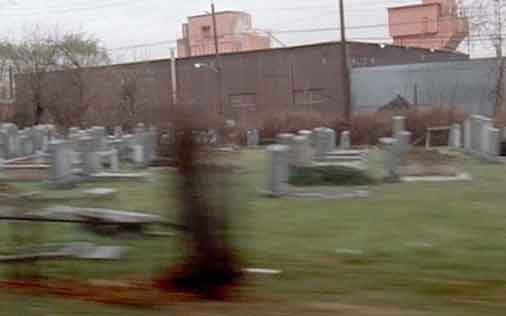 Shot: Pulaski Savings and Loan
Pulaski Savings and Loan was formerly located on Frank E. Rodgers Blvd. in Harrison, New Jersey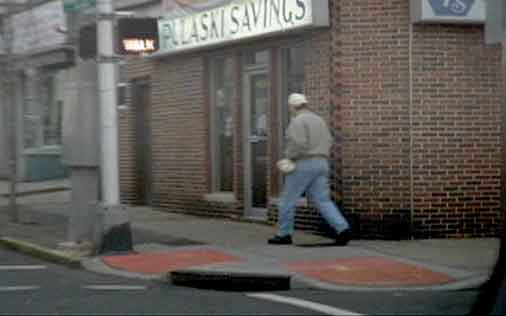 Shot: Satriale's Pork Store, Kearny
The green building next door to the pork store is The Irish American Club.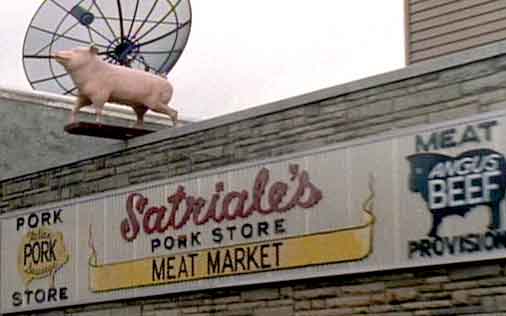 Shot: Pizzaland, North Arlington
Tiny pizza landmark has been in business for over thirty years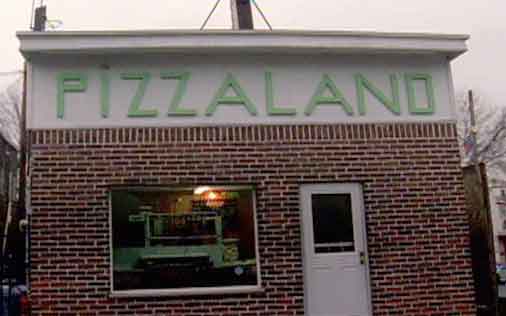 Shot: Driveway to Soprano House