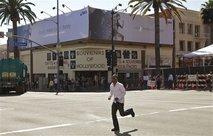 LOS ANGELES – Five giant billboards have been removed from buildings in Hollywood near the site of the Academy Awards after Los Angeles prosecutors charged four people and four companies with hanging the so-called supergraphics illegally.
The ads for Asics athletic gear that hung horizontally across several storefronts near the Kodak Theater where the Oscars will be held Sunday were all removed by Saturday.
Three of the four people charged have posted $100,000 bail each.
City law bans the installation of supergraphics, vinyl images draped over buildings.
Last week in the most severe step taken in the ongoing battle over the banners, Los Angeles businessman Kayvan Setareh was jailed on $1 million bail for hanging an enormous movie ad on a Hollywood Boulevard building he owns near the Kodak Theatre.