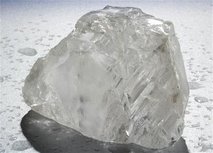 LONDON (Reuters) – Petra Diamonds sold a 507-carat diamond for $35.3 million on Friday, breaking a record as the highest price ever paid for a rough diamond.
Analysts had estimated the value of the stone, one of the 20 biggest high-quality rough diamonds, at around $25 million.
"It is fitting that the Cullinan Heritage should achieve a sale price of $35.3 million, the highest sale price on record ever achieved for a rough diamond, as it has the potential to produce one of the world's most important polished gems," Chief Executive Johan Dippenaar said.
London-listed Petra said in a statement the gem was purchased in a tender by Chow Tai Fook Jewelry Co Ltd in Hong Kong.
Proceeds will help boost Petra's profit for its fiscal year to end-June after the firm swung to a first-half profit on higher production and sales.
AIM-listed Petra found the gem last September at its 74 percent owned Cullinan mine in South Africa, which it bought from sector giant De Beers in 2007.
The Cullinan mine has been the source of many large diamonds, including the world's largest rough diamond — the Cullinan — at 3,106 carats. That gem was cut into the Star of Africa stones that are now set in Britain's Crown Jewels.
Petra was a member of a consortium that paid $148 million when buying the Cullinan mine from De Beers, which is 45 percent owned by mining group Anglo American.