Ah, Black Friday. Half the nation is in bed, nursing the year's biggest tryptophan hangover — and the other half is beating down the doors of their local retailers, baying for bargains with a glint in their eyes and wallets in their hands. If you're going to tackle the crowds, you're going to need a game plan — so here, for your convenience, are our picks of the best Black Friday video game deals.
---
Gamestop
---

Gamestop: used Go-to video game retailer Gamestop is less of a hot Black Friday destination than other stores, and that's reflected in the selection of deals. You might do well with their buy-two-get-three offer on used games, but that'll depend completely on your local store's inventory. All the same, their console bundle deals aren't too bad — and at least you should be spared the worst of the crowds.
— Buy two, get one free on used games and accessories
— Xbox 360 4 GB with either Madden NFL 11 or Medal of Honor: $199.99
— PS3 160 GB with all three God of War games: $299.99
— Black Wii with Just Dance and Wii Sports Resort: $199.99
---
Walmart
---

Walmart: price-matching If you're up for braving the crowds, you'll find a characteristically outstanding set of savings on some of the year's best games at Walmart.  It's also worth noting that Walmart, in a break to traditional Black Friday practice, will be price-matching deals from other retailers — and that news on its own might be enough to make it worth the crush.
— DS Lite: $89
— Red Wii with New Super Mario Bros. Wii and two Wiimotes and nunchuks: $249
— Call of Duty: Modern Warfare 2: $29
— Madden NFL 2011: $29
— Medal of Honor: $29
— NBA Jam: $29
— Red Dead Redemption: $29
— God of War Collection: $10
— Star Wars: Force Unleashed: $10
— Wheel of Fortune: $10
---
Target
---
Target: gift cards Favoring the gift-card bundle over slashed prices, Target's gaming deals are pretty solid. An Xbox 360 for an effective sub-$150 outlay is the cheapest we can find this year, and Target shoppers will have an ample selection of cheap games to go with it.
— 4 GB Xbox 360 with $50 gift card: $199
— PSP with LittleBigPlanet and Karate Kid: $127
— Assassin's Creed: Brotherhood with $10 gift card: $59.99
— Just Dance 2 with $10 gift card: $39.99
— Halo Reach: $35
— Medal of Honor: $35
— Final Fantasy XIII — $17
---
K-Mart
---

K-Mart: all-rounder But if you've only got the time or energy to raid one retailer this Friday, we recommend you make it K-Mart. Matching Walmart's outstanding deal on the DS Lite, there's also an awesome Xbox 360 bundle on offer — and $20-$25 savings on a good number of the year's top games.
— DS Lite: $89.99
— Xbox 360 4GB with Call of Duty: Black Ops: $199.99
— Fable 3: $39.99
— Fallout: New Vegas: $34.99
— Madden NFL 11: $39.99
— Need for Speed: Hot Pursuit: $34.99
— Halo: Reach: $39.99
— NBA Jam: $29.99
— Mass Effect 2: $9.99
— The Beatles: Rock Band: $14.99
Donkey Kong is king of the video game jungle this week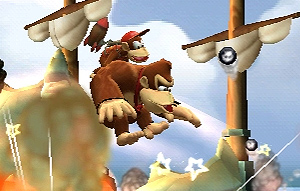 He typically plays second banana to Mario, but this week original Nintendo tough-guy Donkey Kong swings back into action as the star of his very own Wii game. Donkey Kong Country Returns is the spiritual successor to the 1994 Super Nintendo platforming great Donkey Kong Country — and if critics are to be believed, its 16-year evolution was worth it.
Averaging a potassium-packed 89 at Metacritic, the Wii-exclusive is garnering some pretty glowing praise.
"The magic of Donkey Kong Country Returns lies in its ability to genuinely capture the sensibilities of the original without pretense," says writer Christina Troup in an 'A' review for 1Up, adding that it "hits all the right spots; it's filled with childhood nostalgia, stunning visuals, and mentally taxing challenges."
Print pub Game Informer pats the gorilla's back, too, awarding his game a 95/100 while claiming it surpasses the recent efforts of his more famous nemesis.
"New Super Mario Bros. Wii was fantastic, but Donkey Kong Country Returns manages to push the simian above his plumber rival in virtually every category," insists writer Dan Ryckert.  He goes on to gush about the game's "gorgeous visuals, awesome boss battles, varied stages, and cleverly hidden secrets," though he warns that it's "easily the hardest in the series."
Some critics aren't exactly bananas over that difficulty, however, which seems exacerbated by some tricky controls.  Gamepro writer Heidi Kemps calls the handling "ill-conceived" due to an awkward use of the Wii remote waggle to pull off certain moves, while Games Radar scribe Brett Elston rails on the "barrage of cheap deaths, uneven difficulty and iffy motion controls."
Still, both sites doled out respectable 8/10 scores, proving that even a few banana peels shouldn't stop this ape from barreling onto holiday wish lists.