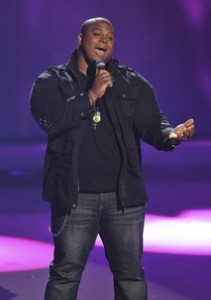 "American Idol" viewers shared a big day with Michael Lynche when his wife gave birth during Hollywood week and he talked her through her contractions by cell phone.
"Hi baby girl," he heard his wife say when the baby was born across the continent in New York City.
Lynche made the cut that week and every week since, though he had a close call on April 7. The 26-year-old soul singer received the fewest viewer votes but was saved by the judges.
"We have decided we're going to see you next week," Simon Cowell said after the "Idol" judges used their once-a-season override.
Four weeks later, "Big Mike" is among the final five.
He made Kara DioGuardi cry with his heartfelt rendition of "This Woman's Work" by Maxwell, but Cowell thought his version of Shania Twain's "It Only Hurts When I'm Breathing" was "wet."
The burly "singing teddy bear" has performed with and without a guitar and once hoisted Ryan Seacrest like a sack of potatoes.
Lynche grew up in St. Petersburg, Fla., but now lives in New York, where he works as a personal trainer at an Equinox Fitness Club.
He played college football for the University of Central Florida, leaving after two seasons to care for his cancer-stricken mother. She died in 2004.
Lynche performed with his family as the Lynche Mob and more recently has sung with a wedding band called East Coast.
Both St. Petersburg and Astoria, Queens, the ethnically diverse neighborhood where Lynche lives with his wife, Christa Angelelli, are rooting for him to go all the way on "Idol."
"It's not anything new," said Omonigho Imeokparia, a St. Petersburg insurance salesman who played high school football with Lynche. "He's always been an outgoing person, a talented person."
"He's a wonderful guy," said Astoria neighbor Sanela Cirikovic. "Everybody in the building likes him. We are all watching him all the time on TV. And voting for him."
Cirikovic, whose father is the building's superintendent, added that Lynche is a responsible tenant: "He recycles," she said. "He doesn't mix everything together."
The local Burger King has a "Vote for Big Mike" sign in the window.
Manager Khadija Malajati said fans crowd into the restaurant to watch when "Idol" is on. Some know him from the neighborhood; others do not.
"They're just supporting him," she said. "They're proud because he's from Astoria."