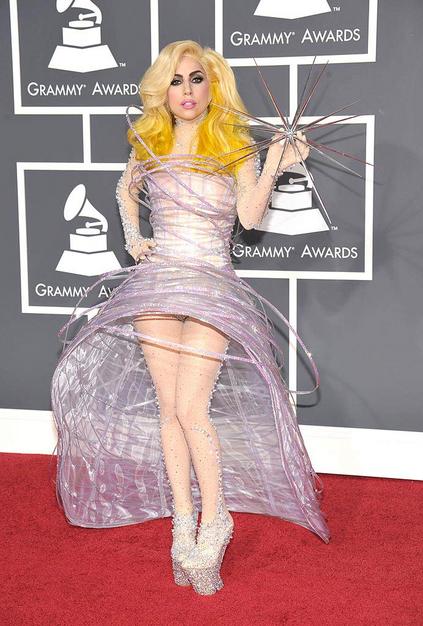 Lady Gaga at The 52nd Annual Grammy Awards in 2010
Gaga was expected to sport an extreme ensemble — and did just that — in this custom-made, crystallized Armani gown, two-tone wig, heelless platforms, and out-of-this-world accessory.
---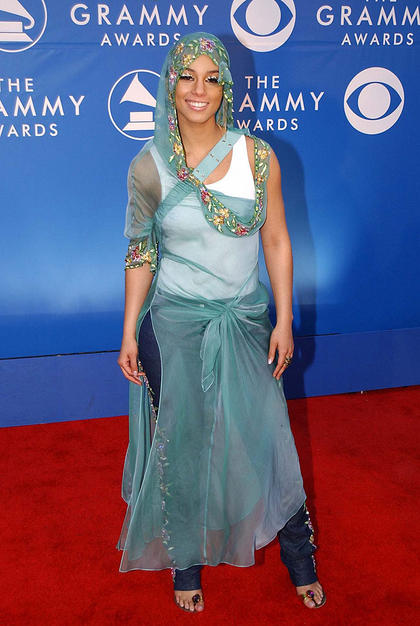 Alicia Keys at 44th Annual Grammy Awards in 2002
On the night she would go on to win five Grammys, including Best New Artist, Alicia made the mistake of pairing a sheer sari with a chintzy tank top, embroidered jeans, and bejeweled sandals.
---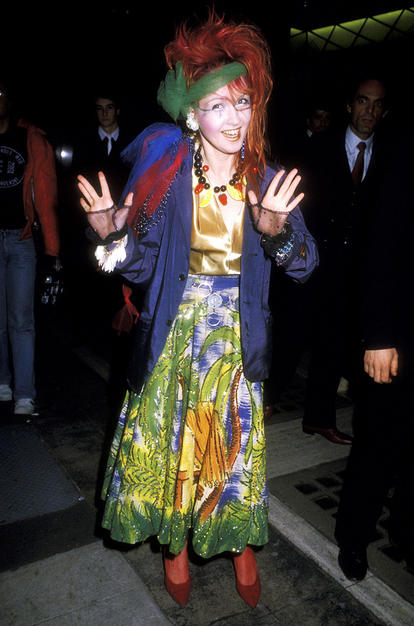 Cyndi Lauper at The 26th Annual Grammy Awards in 1984
Cyndi's debut album, "She's So Unusual," dropped in October 1983, and she solidified her unusual status the following February when she hit the red carpet in this signature eyesore.
---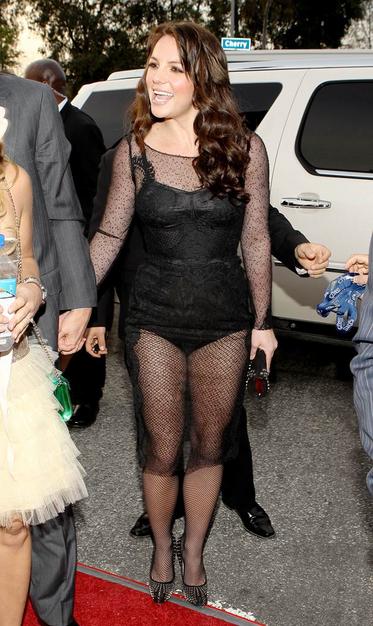 Britney Spears at The 52nd Annual Grammy Awards in 2010
Everyone was hoping the pop tart would continue her comeback in an award-winning look, but Brit bombed in a black widow-inspired Dolce & Gabbana lace dress and bodysuit.
---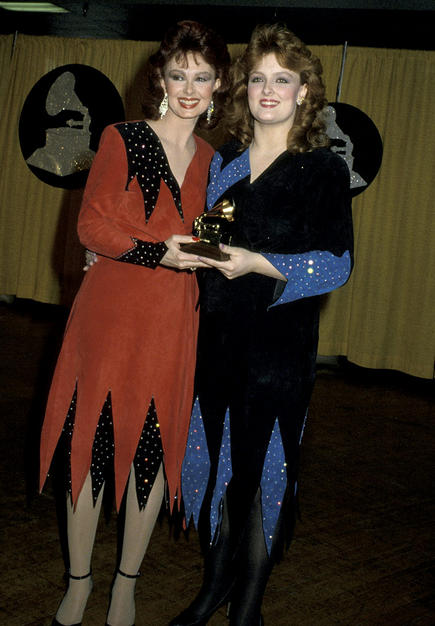 Naomi and Wynonna Judd at The 27th Annual Grammy Awards in 1985
Wizards? Jesters? Renaissance festival goers? You make the call because we certainly don't know what look The Judds were trying to achieve.
---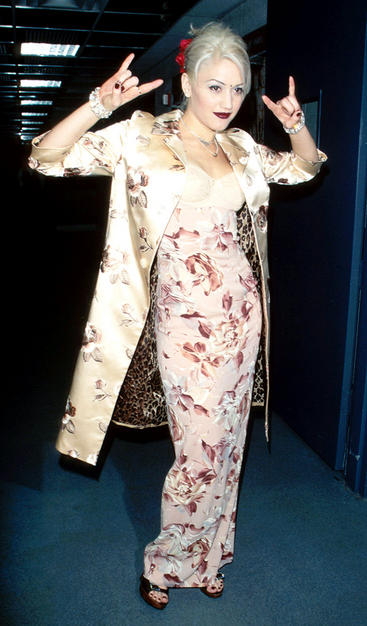 Gwen Stefani at The 39th Annual Grammy Awards in 1997
We'll let the overabundance of powder and the unnecessary bindi slide, but we can't forgive Gwen for attempting to wear her granny's curtains to the Grammys.
---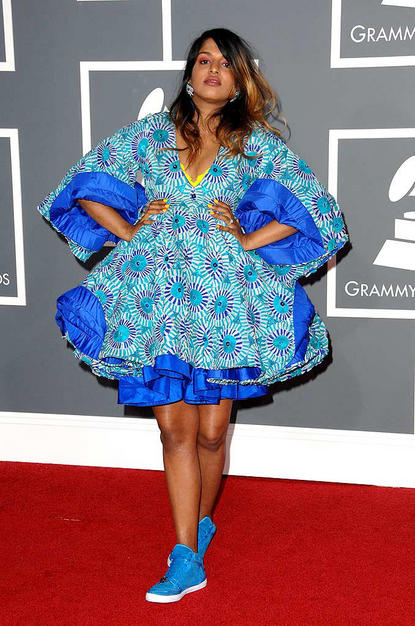 M.I.A. at The 51st Annual Grammy Awards in 2009
An extremely pregnant M.I.A. deserved big props for showing up at the Grammys on her baby's due date. Unfortunately, she didn't get any props for her flouncy frock and matching high-tops.
---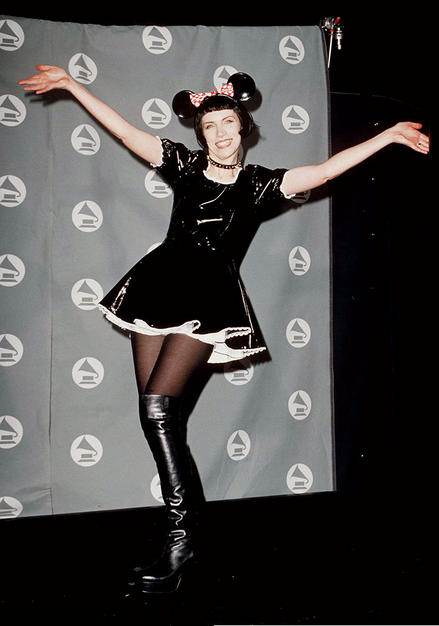 Annie Lennox at The 37th Annual Grammy Awards in 1995
Perhaps it's just us, but we doubt Walt Disney ever imagined "Minnie Mouse" and "latex" would appear in the same sentence.
---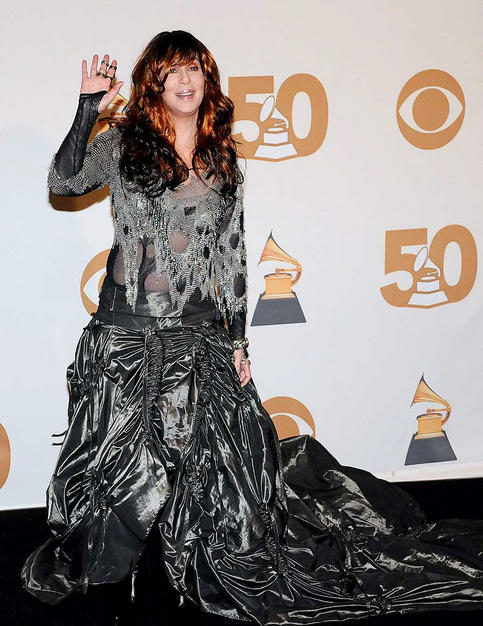 Cher at The 50th Annual Grammy Awards in 2008
Discolored wig? Check. Tattered screen door panels? Check. Approximately 14 crumpled trash bags? Check. Cher in all her ridiculous fabulousness? Check!
---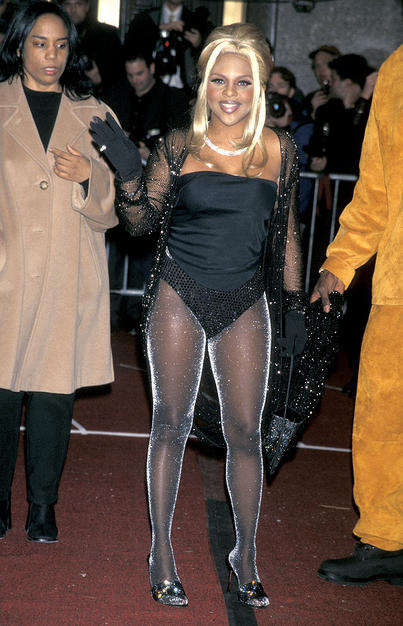 Lil' Kim at The 40th Annual Grammy Awards in 1998
Truth be told, we've never seen Lil' Kim this covered-up. Yet, she still looks like a hot mess. Go figure.
---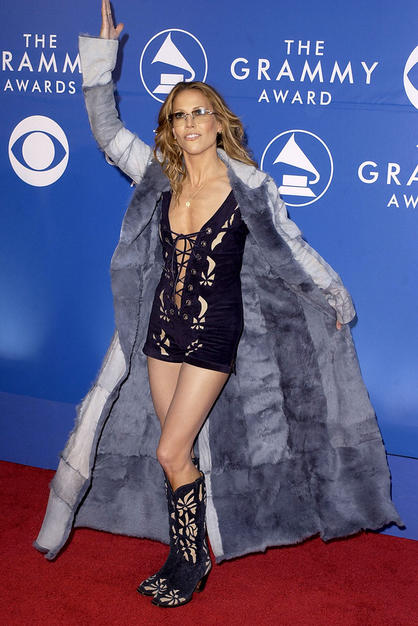 Sheryl Crow The 44th Annual Grammy Awards in 2002

If it's cold enough to wear a floor-length fur coat, perhaps wearing something other than a corseted romper under said coat would have made more sense. Just a thought.
---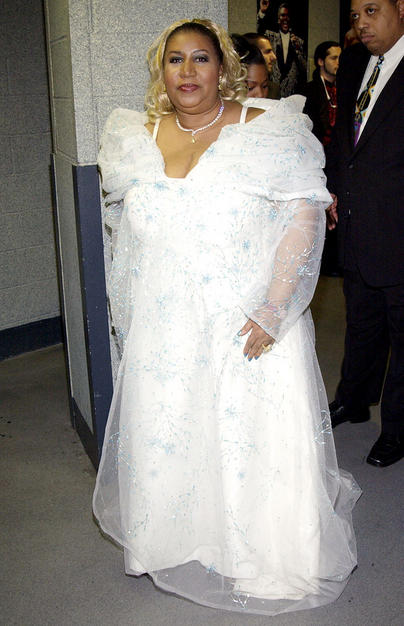 Aretha Franklin at The 45th Annual Grammy Awards in 2003
She may be the Queen of Soul, but she's also the Queen of Bad Style.
---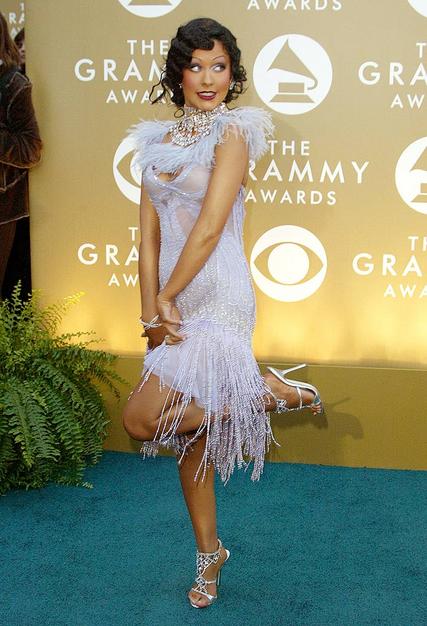 Christina Aguilera at The 46th Annual Grammy Awards in 2004
When did the Grammys become an off-the-Vegas-strip showgirl spectacle, featuring over-bronzed flappers? Answer: 2004, when Xtina arrived.
---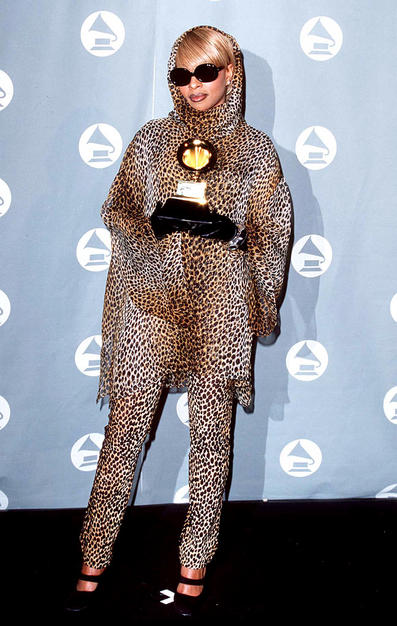 Mary J. Blige at The 38th Annual Grammy Awards in 1996
Some of you may disagree, but there is such a thing as too much cheetah print. BTW, sunglasses indoors … fail.
---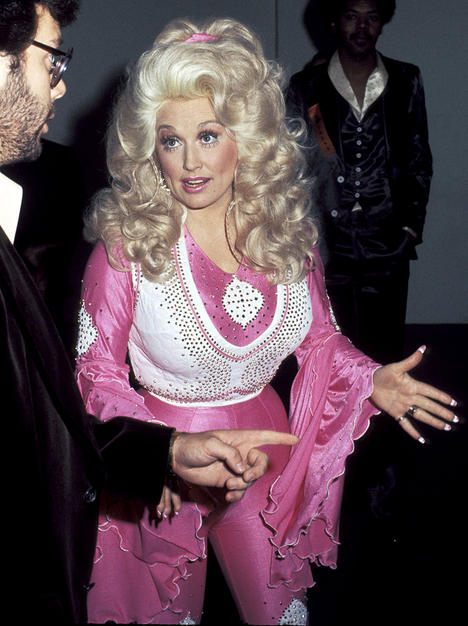 Dolly Parton at The 19th Annual Grammy Awards in 1977
Yes, it was 1977. No, that's not a legitimate excuse. Then again, we love Dolly, and she can do no wrong. Well, except for those press-on nails!
---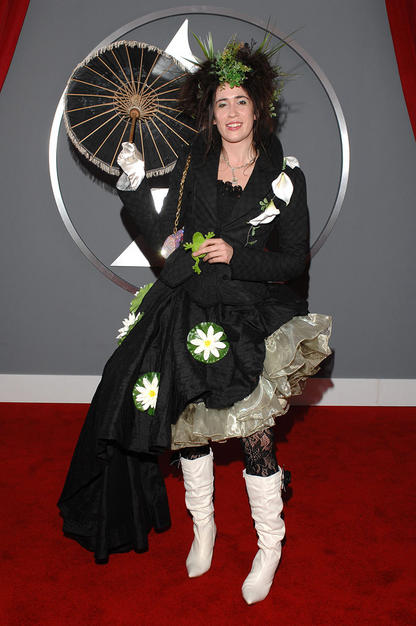 Imogen Heap at he 49th Annual Grammy Awards in 2007
We feel sorry for that little frog in Imogen's hand. Don't you?
---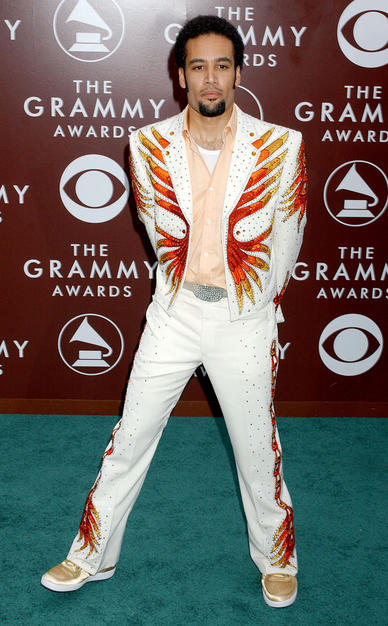 Ben Harper at The 47th Annual Grammy Awards in 2005
Minus the peach-colored button-down shirt, we're kinda digging Ben's bold, fire bird-adorned suit … despite its wackiness.
---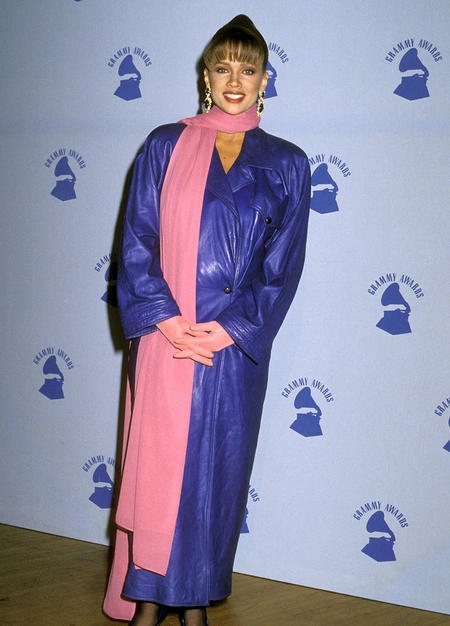 Vanessa Williams at The 31st Annual Grammy Awards in 1989
Why on Earth would one of the world's most gorgeous women hide her fantastic figure under a floor-length, purple leather coat? More importantly, why on Earth would anyone accessorize with an extra-long pink scarf, salmon-colored gloves, and costume jewelry?
---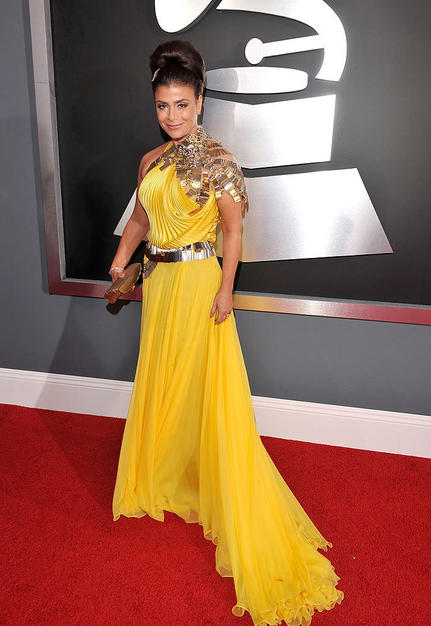 Paula Abdul at The 51st Annual Grammy Awards in 2009
Paula's canary-colored catastrophe featured an overly ruched bodice, a bizarre metallic shoulder piece, and an unnecessary belt, while her head featured a Bride of Frankenstein-like 'do.
---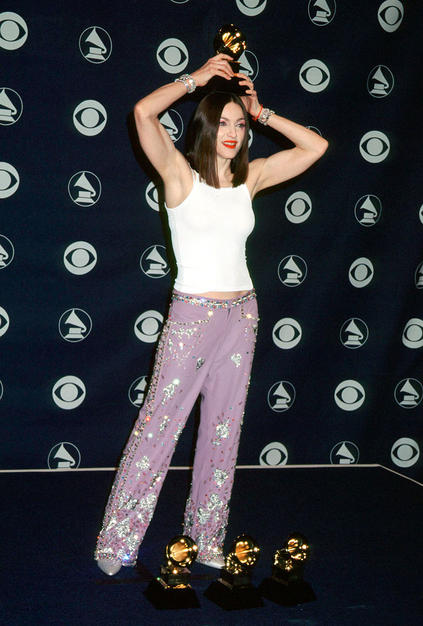 Madonna at The 41st Annual Grammy Awards in 1999
Pajamas? At the Grammys? Apparently if you're Madonna, you can get away with wearing anything.
---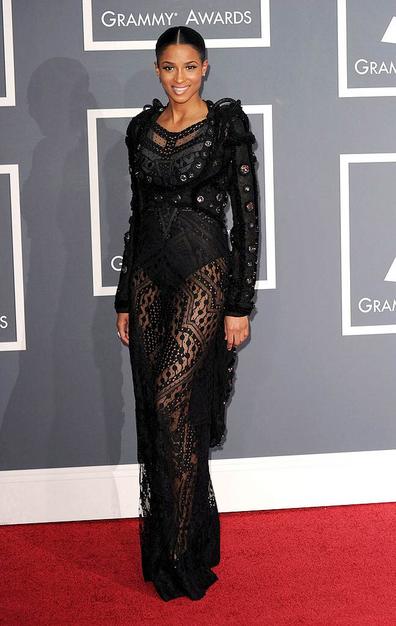 Ciara at The 52nd Annual Grammy Awards in 2010
Hopefully this isn't the fashion of the future. If it is, we're all doomed.
---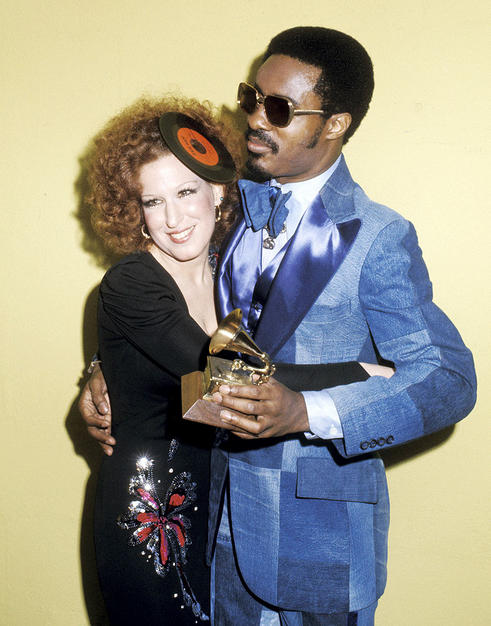 Bette Midler and Stevie Wonder at The 17th Annual Grammy Awards in 1975
Stevie's suit was sharp for '75, but Bette's record-adorned dome fell flat.
---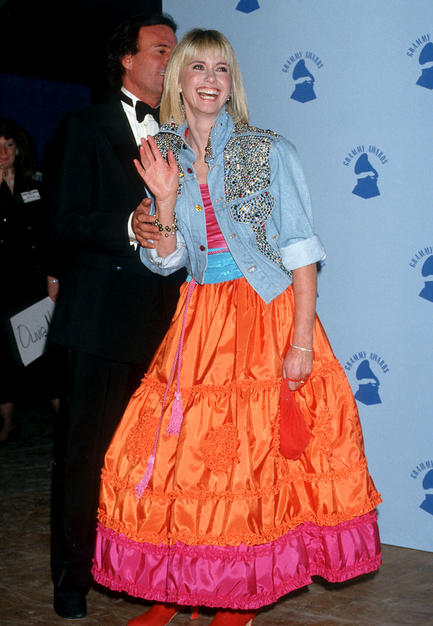 Olivia Newton John at The 29th Annual Grammy Awards in 1987
The 80's … when neon parachutes and bedazzled jean jackets were all the rage. Those were the days!
---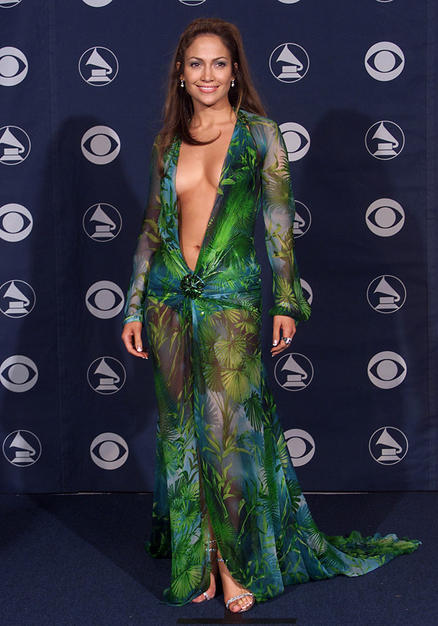 Jennifer Lopez at The 42rd Annual Grammy Awards in 2000
J.Lo in the infamous green Versace "jungle dress." 'Nuff said.
---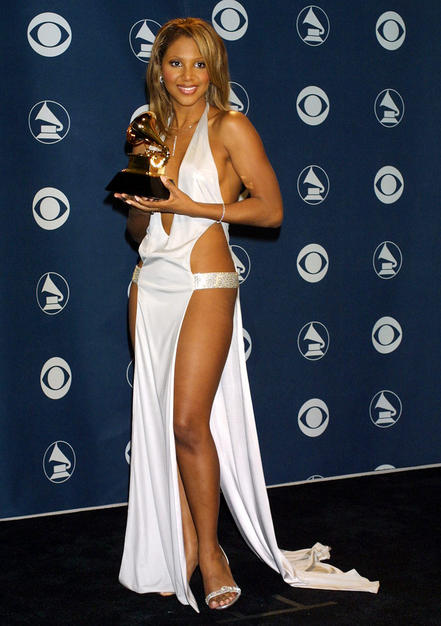 Toni Braxton at The 43rd Annual Grammy Awards in 2001
A year after the Versace scandal, Toni dared to out diva J.Lo and ended up looking like an undone mummy.