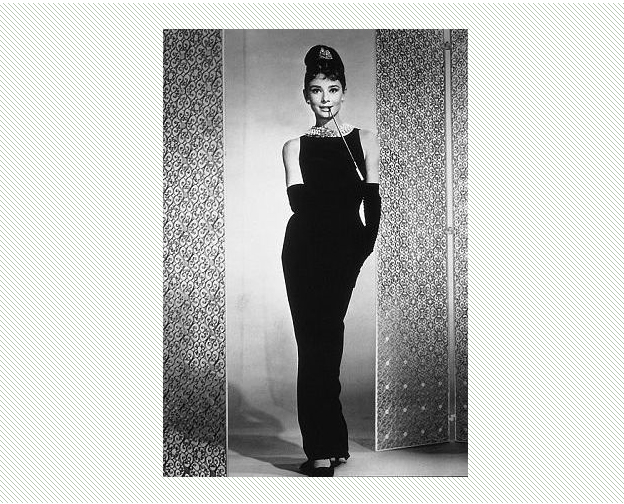 Audrey Hepburn in Givenchy in "Breakfast at Tiffany's" (1961)
One of the most iconic images in modern cinema is Audrey Hepburn wearing this stunning black dress by Givenchy. It may just be the most famous dress on Earth. Nearly 50 years later, women still rely on their "little black dress" for formal occasions.
A recent poll conducted by online fashion retailer offerssupermarket.co.uk surveyed readers on the most memorable dresses of the last half-century. Since it's a British site, the results were notably different than what we'd find here in the United States. For example, Geri "Ginger Spice" Halliwell's Union Jack dress nabbed the top spot. While we do feel the poll included a few great choices, some were memorable in a bad way a la Bjork's infamous Swan dress. And while we love their selection of Marilyn Monroe's white dress from "Seven Year Itch"—and think of it every time I walk over a subway grate in a dress—the film came out in 1955 and is actually too old to make the 50-year cutoff.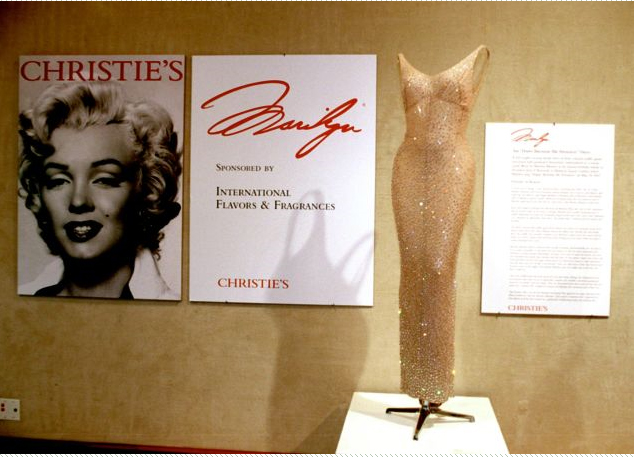 Marilyn Monroe's Jean Louis dress (1962)
This is the famous silk and rhinestone gown Marilyn Monroe wore when she sang "Happy Birthday" to President John F. Kennedy at Madison Square Garden. Monroe wore nothing under the dress, and it was so tight she had to be sewn into it. The dress recently set a new record for auction prices at Christie's New York sale of Monroe's personal property bringing in $1.26 million.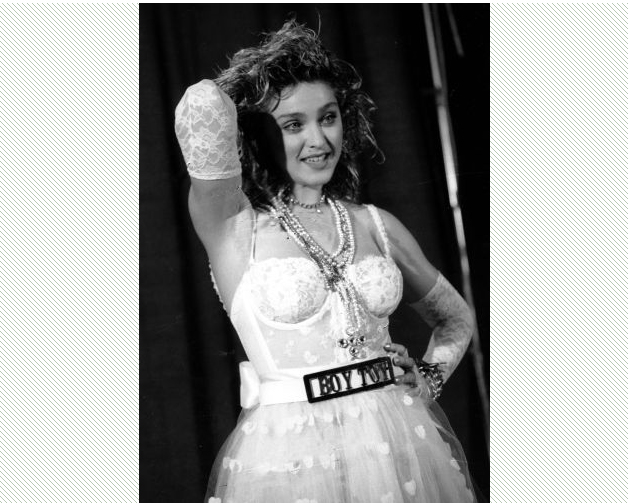 Madonna's wedding dress at the MTV Video Music Awards (1984)
As if Madonna's "Like a Virgin" song wasn't controversial enough, the pop star performed the song at the first MTV VMAs wearing a wedding dress, veil, and "Boy Toy" belt buckle. After suggestively writhing around on the ground in her gown, this show-stopping performance catapulted Madonna into a mega-star and international fashion icon.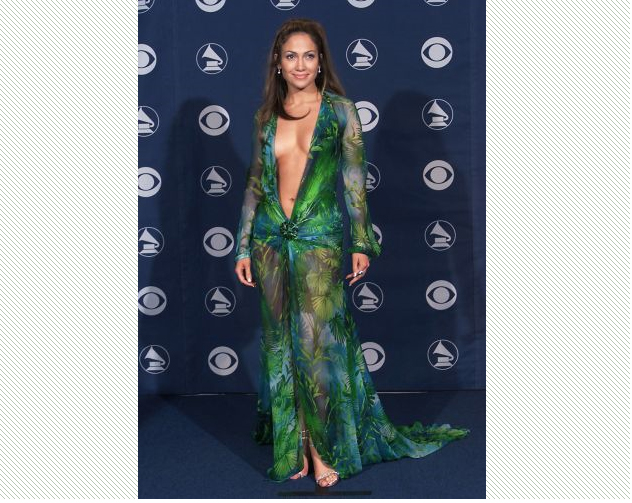 Jennifer Lopez in Versace at the Grammy Awards (2000)
This silk chiffon dress was so translucent it came with a built-in pair of crystal studded panties. With Jennifer Lopez's stunning body being revealed from every possibly direction, this gown remains one of the most talked about gowns that has ever walked the red carpet. Donatella Versace says the dress "was an unexpected success."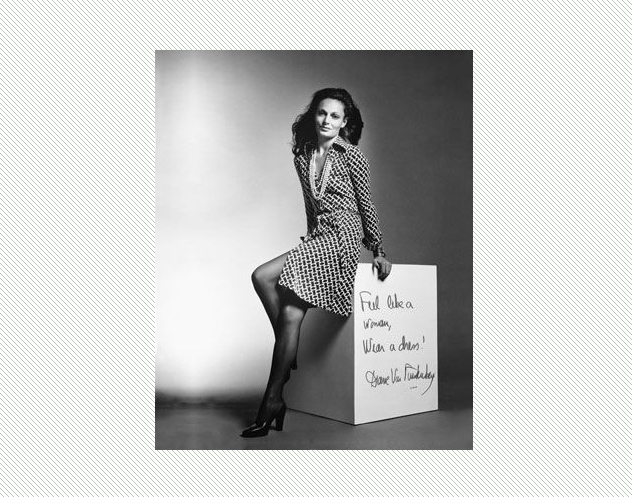 Diane von Furstenberg in her iconic wrap dress (advertisement circa 1973)
In 1973, Diane von Furstenberg made her mark on fashion with her famous wrap dress, that is still sold and worn today. "Feel like a woman. Wear a dress," she said, and promptly sold 5 million of the knitted jersey dresses. In 1976 she graced the cover of Newsweek and was dubbed a new women's liberation leader and the most marketable designer since Coco Chanel.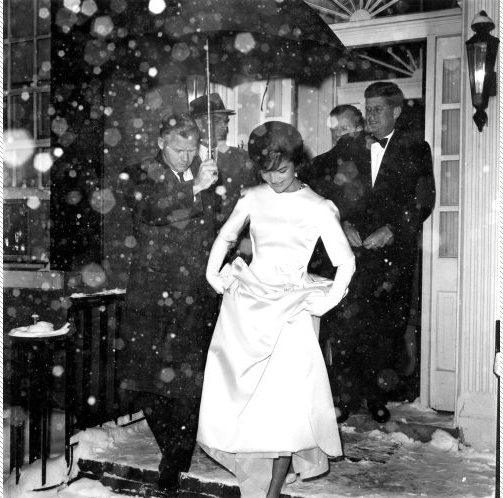 Jacqueline Kennedy in Oleg Cassini at the Inaugural Gala (1961)
Jacqueline Kennedy enlisted designer and family friend Oleg Cassini to create a wardrobe for her as first lady. Although she wore European designers like Chanel, Givenchy, Dior, and Hermes, many of Jackie's iconic gowns by Cassini, including this satin dress, remain the most memorable. Not even Michelle Obama can rival her legacy as the most fashionable first lady ever.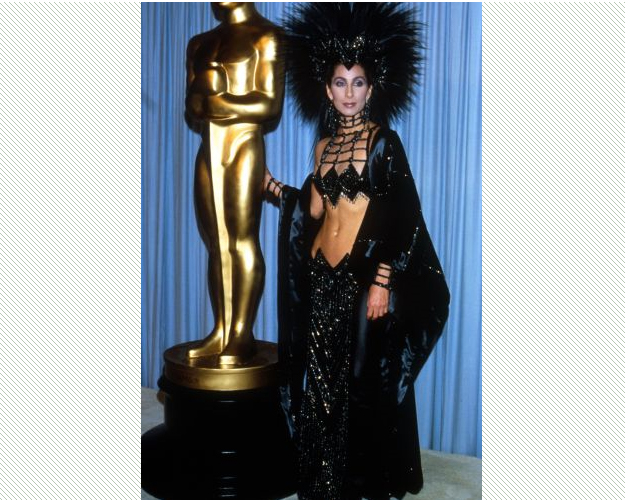 Cher in Bob Mackie at the Academy Awards (1986)
In the world of Cher and costumer Bob Mackie, this constitutes a dress, and a quite famous ensemble at that. When Cher took the stage to present at the Oscars she said, "As you can see, I did receive my Academy booklet on how to dress like a serious actress."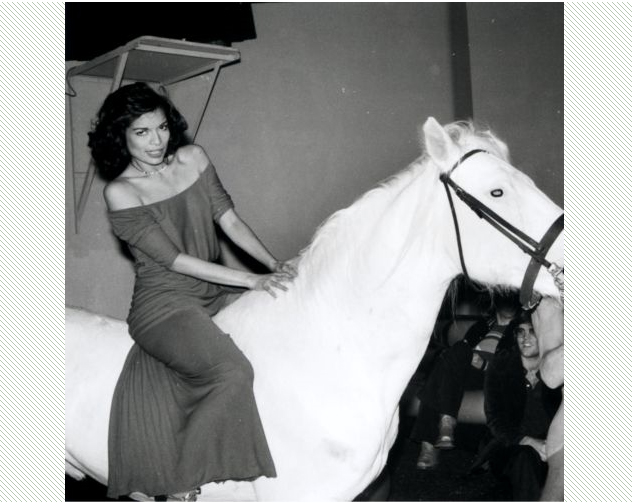 Bianca Jagger in Halston at Studio 54 (1977)
A week after the now legendary Studio 54 opened, Bianca Jagger held a private birthday party at the nightclub on a Monday night. The then-wife of Rolling Stones frontman Mick Jagger made a grand entrance wearing an off-the-shoulder Halston dress on a white horse. After that night, Studio 54 became the preferred club for celebrities and New York's elite.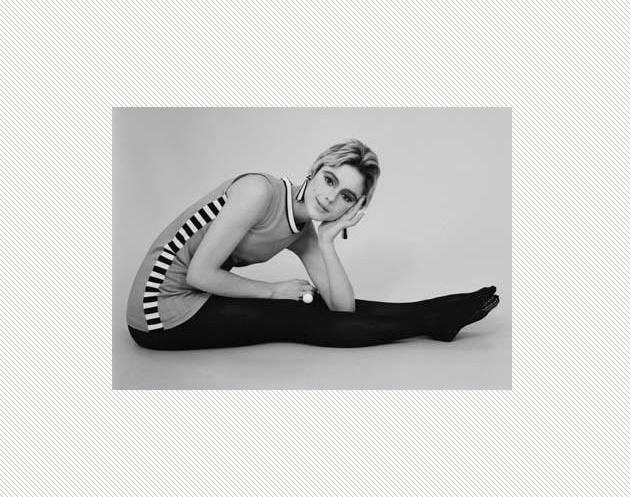 Edie Sedgwick (1965)
This actress/model/socialite introduced the mod look stateside. As Andy Warhol's muse, Sedgwick was dubbed an "It Girl" and became known for her black leotards and micro mini dresses.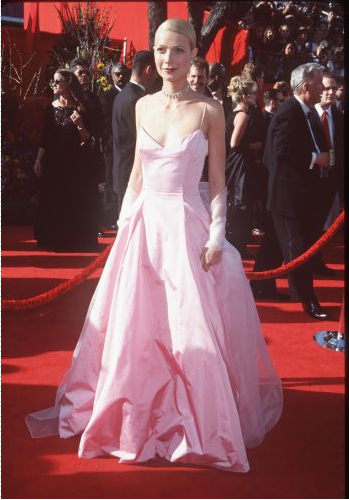 Gwyneth Paltrow in Ralph Lauren at the Academy Awards (1999)
This pink taffeta princess dress was very atypical for red carpet attire at the time, and some critics complained that the top looked ill-fitting. We think the "Shakespeare in Love" best actress wore one of the prettiest Oscar dresses ever.
OffersSupermarket.co.uk's top 10 most iconic dresses of the past 50 years:
1. Geri Halliwell – Union Jack dress – 82%
2. Liz Hurley – Versace safety pin dress – 79%
3. Marilyn Monroe – White dress – 74%
4. Audrey Hepburn – Black dress and pearls in Breakfast at Tiffany's – 67%
5. Lady Gaga – White outfit and wig worn to the Brit Awards – 63%
6. Diana, Princess of Wales – Wedding dress designed by The Emanuel's – 58%
7. Kylie Minogue – Gold hot pants – 56%
8. Jennifer Lopez – Sheer green Versace dress worn to the Grammys – 53%
9. Björk – Swan dress worn to the Oscars – 49%
10. Cindy Crawford: Red Versace dress worn to the Oscars – 44%