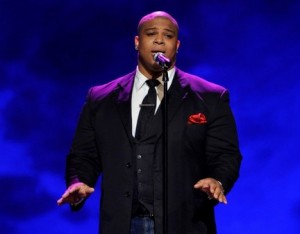 Michael "Big Mike" Lynche was voted off "American Idol" on Wednesday as the singing show whittled down to three the number of aspiring pop stars vying for the coveted title and a shot at stardom.
Lynche, a personal trainer who won hearts when his wife gave birth to their first child during early audition rounds, was finally shown the door after being saved from elimination by the judges five weeks ago.
His rendition of Michael Jackson's theme song "Will You Be There" from the movie "Free Willy" received a lukewarm reception from the judges on Tuesday.
Host Ryan Seacrest said 37 million votes were cast by viewers this week — the highest in the Fox show's current ninth season.
"It has been unbelievable," Lynche said as his wife, watching on stage, cried and cuddled their three month-old baby girl. "Thank God for the judges' save… It is all good."
Favorites Crystal Bowersox and Lee DeWyze, as well as Texan guitarist Casey James, will now compete for a place in the finale, which will be broadcast live on Fox on May 25.
The three will also be filmed visiting their home towns and their fans next week for what has become an emotional annual milestone on the road to the finale.
"American Idol" has been America's most-watched show for the past seven years and has launched the careers of Grammy-winning stars like Kelly Clarkson, Carrie Underwood and Jennifer Hudson.
But audiences have dropped below 20 million for the past three weeks and despite the addition this season of new judge Ellen DeGeneres, "Idol" is facing challenges from rival ABC's "Dancing with the Stars."