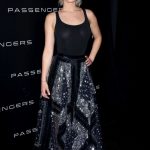 Purposefully or not, Jennifer Lawrence always makes a statement. So when she walked the red carpet at CinemaCon in Las Vegas on Tuesday night, the look raised the question: feminism or fashion?
To promote her forthcoming film Passengers, which co-stars Chris Pratt, the 25-year-old wore an embellished Altuzarra skirt with a black tank top. And with cameras flashing at the platinum blond actress, the bright bulbs revealed that she opted for no bra underneath. And you know what? She looked incredible. But that's not what everyone is focusing on. Instead, media outlets — we won't name names — have been focusing on the star's unsupported assets.
No one would even have known that she wasn't wearing a bra if it weren't for the fact that the camera flash caused her vest to go ever-so-slightly transparent. But as this is an actress who's happy to discuss her menstrual cycle and has tripped up in front of the world at the Oscars, it's safe to assume she doesn't care about the fact that her lingerie secret was released.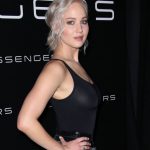 Coincidentally, Lawrence made this fashion statement on April 12, otherwise referred to as Equal Pay Day, the date that women would have to work until this year just to earn the salary men made last year. The actress has been very outspoken about her experience negotiating for commensurate compensation. "I'm over trying to find the "adorable" way to state my opinion and still be likable! F*** that," she wrote in Lenny Letter. "I don't think I've ever worked for a man in charge who spent time contemplating what angle he should use to have his voice heard. It's just heard." Seems going braless is the 21st-century grandchild of 1960s bra burning. Cheers to that!
This slideshow requires JavaScript.