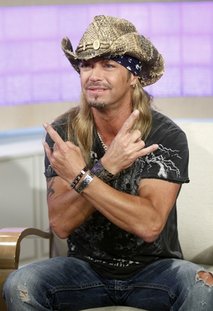 Though he has suffered from life-threatening health problems in recent weeks, Bret Michaels appeared in fine form on the "American Idol" stage.
The ailing 47-year-old rocker and reality TV star sang and played guitar on Wednesday's star-studded season finale. The Poison frontman joined "Idol" finalist Casey James on one of the band's biggest hits, "Every Rose Has Its Thorn."
Michaels, who won this season's "Celebrity Apprentice" show last Sunday, suffered a brain hemorrhage in April. He was hospitalized again May 20 for what doctors called a "warning stroke" and diagnosed with a hole in his heart. Doctors said the conditions are likely unrelated.
He announced on his website this week that though he isn't 100 percent, but plans to continue his tour, starting Friday in Biloxi, Miss.
He said that seeing fans "rockin' rollin', smiling faces … is the best medicine I can think of."