Seven reasons why Microsoft should (mostly) feel good about Windows Phone 7
After years of struggling to find its way in the smartphone wilderness, there are many good reasons why Microsoft (MSFT) should feel good about its newly unveiled Windows Phone 7 mobile operating system.
As Stuart Dredge of Mobile Entertainment declared, the tech giant from Redmond, Wash. "has come out swinging in the smartphone wars." While Microsoft has a lot of work to do to catch up to Apple's (AAPL) iPhone and Google's (GOOG) Android operating systems, here are seven reasons why WP7 can compete with its rivals.
1. The phones are stylish
The look and feel of WP7 phones, which will be available to U.S. consumers on November 8, should appeal to hardcore tech enthusiasts and first-time smartphone owners alike. While the first crop of devices from manufacturers including Samsung (005930.KS), Dell (DELL), HTC (2498.TW) and LG (066570.KS) are not as elegant as the iPhone, they are much better looking than previous Windows-based smartphones.
Kara Swisher in her Boom Town column in the The Wall Street Journal said Microsoft "has at least anted up table stakes to play, delivering a phone that looks pretty good at first glance."
2. There is an improved user experience
Inside the phones, the WP7 software and user interface is organized by more generalized "Hubs" for things like games, photos and social networks. In contrast, the iPhone and most Android devices are more dependent on being able to access hundreds of thousands of individual applications. While apps provide great variety, many consumers are only interested in a core set of tools and don't want to clutter their screens with annoying and unproductive features.
Microsoft also wins points for developing software that reliably supports multitasking between actions like finding out the weather, seeing if your favorite team is winning the ballgame and checking when your next meeting is scheduled, all without draining the battery. If you like how Windows organizes your personal computer, you'll probably be comfortable with WP7.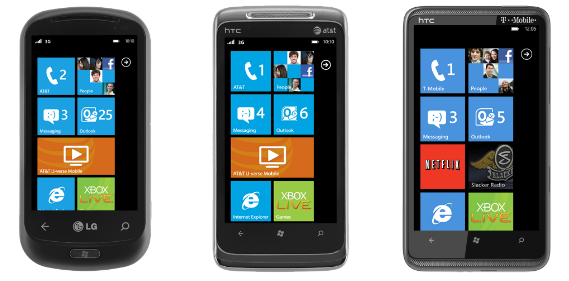 3. Existing appeal among business users
As is the case with virtually all Microsoft products, enterprise customers will feel secure with WP7. Phones powered by WP7 will be integrated with Microsoft Office and Exchange, which already keep global business operations humming. In the enterprise market, Microsoft will be more of a threat to RIM's (RIMM) BlackBerry phones. Companies that require their employees to conduct business on BlackBerrys – and avoid doing so on iPhone and Android devices – will be similarly comfortable handing out Microsoft phones.
4. These phones know how to be social
Facebook users will love WP7 phones. It's obvious that Microsoft, which owns a small piece of Facebook, paid a lot of attention to the world's largest social network of 500 million users when redefining its mobile presence. Facebook is weaved within the People and Pictures Hubs of WP7, and is an integral presence throughout the operating system. Twitter, which has less than one-third of Facebook's users, is only available via download as an independent app.
5. Apps and games are also available
While Microsoft is only featuring a handful of popular apps like eBay, IMDb and Tetris upon launch, expect independent developers to create and reconfigure titles specific to WP7 phones. While it's unlikely that the quantity of WP7 apps will ever match what is available for the iPhone (more than 250,000) and Android devices (approaching 100,000), programs to help you get around, manage tasks or pass the time at the bus stop will certainly be available. Gamers will also be able to access a version of Xbox LIVE on their WP7 phones.
6. It still pays to be skeptical
Microsoft has blown it before. Take Microsoft Bob, which back in 1995 promised to reinvent the notion of desktop computing in a less technical way. Microsoft's CEO Steve Ballmer later cited Bob as an example of a situation "where we decided that we have not succeeded and let's stop." (Upbeat note: Melinda French, the future philanthropist and Mrs. Bill Gates, helped develop Bob.)
More recently in the smartphone arena, there was the Kin, a family of phones from Microsoft sold by Verizon from April through July 2010. Kin was billed as "a close cousin of Windows Phone 7" and was supposed to be a social media phone aimed at people between the ages of 15 and 30. Kin was a spectacular failure, with $1 billion lavished on development and lasting only six weeks on the market.
7. Microsoft should never be underestimated
Pundits said WP7 could be the Bing or the Xbox of phones. Swisher said that when Microsoft's refurbished search engine was introduced two years ago, there were questions as to whether Bing could make a splash in a Google-dominated market. "And, while it has been a costly effort, few can dispute the fact that the innovative, interesting and cleverly marketed Bing is a perceptual and perhaps even actual hit for the software giant."  She said WP7 could pull it off too. "It seems to have been born in the same green-field spirit of Bing and looks like a welcome entrant into the arena."
Of course it doesn't hurt to have a lot of money either. Microsoft is expected to spend hundreds of millions of dollars to jump-start WP7. While clever and consistent marketing can't save duds like the Kin, money and messaging should help Microsoft and WP7 get back into the mobile media game.