TO understand the counterintuitive business wisdom infecting Silicon Valley these days, consider an imaginary corner supermarket, Joe's Foods.
After establishing his store as a vibrant enterprise and a hive of neighborhood activity, Joe makes a strange decision: he props open the front door and invites everyone to come in, take the merchandise free of charge, and then give it away themselves.
All the extra foot traffic, Joe says, will make Joe's Foods the social center of the community.
That is roughly comparable to what Facebook, the popular social network, did this past week. In a loud and proud public announcement, it said it didn't care whether its members visited Facebook.com at all.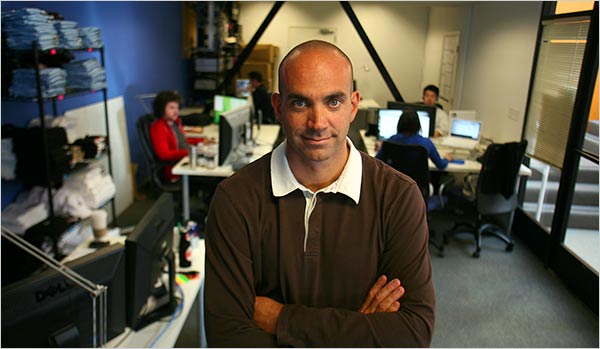 The company said it would provide a set of technology tools that will let other companies create programs that tap into the heart of the social network — the endless stream of photographs, status updates and comments that people post to the service. Saying it is unable to provide a range of access to the service from every possible gadget, Facebook expects developers to create Facebook programs that sit on computer desktops, run inside Web browsers and are tailored to a wide range of mobile devices like the iPhone.
"We believe we are giving people a better way to share more information in more places, and we actually expect it will allow Facebook to grow significantly," said Ethan Beard, Facebook's director of platform marketing.
The shift follows a similar strategy by Twitter, the microblogging service that from its inception has let third parties create the programs that let people see and post Twitter updates.
With each of these fashionable Web start-ups trying to become the essential platform for social dialogue on the Web, it has been a battle royal, and one of the most interesting and odd technology competitions since Microsoft and Netscape fell over each other to give away their browsers in the first browser wars.
The duel has also provoked a flurry of entrepreneurial energy in Silicon Valley, with a wave of companies trying to create new ways to allow people to tap into their social networks.
Loïc Le Meur is a French entrepreneur whose San Francisco start-up devoted to Web video, Seesmic, was facing high costs and an uncertain future last fall. Instead of closing down, Mr. Le Meur laid off half of his staff and reoriented his company to developing a program, called Seesmic Desktop, that lets people see and update their Facebook and Twitter streams without logging on to either service.
The software also allows users to create special groups and see their updates — people with more than 1,000 followers, for example, or everyone living in a certain area of New York City. Neither feature is offered by Facebook or Twitter. The free Seesmic Desktop software, in its various incarnations, has been downloaded 1.5 million times and Mr. Le Meur hopes one day to charge companies for a richly featured version of it.
"We're competing with Facebook using their data, but we are also helping them by offering their users another way to see their friend's data and interact with it," Mr. Le Meur said.
Seesmic is hardly alone. TweetDeck, a budding business of the London engineer Iain Dodsworth, has more than a million users and also blends together Facebook and Twitter feeds. The software sits on the desktop, endlessly churning out both banal and urgent dispatches from everyday life.
SocialScope, a program from Amit Kumar, a former Bear Stearns investment banking analyst, is tailored for BlackBerry phones and lets users check multiple social networks. Though it is only in beta mode, it is already a more full-featured window into the social network than Facebook's own software for the BlackBerry.
"Checking your stream on your phone becomes oddly addictive," Mr. Kumar said.
The opportunity has even attracted some large Internet companies, like Glam Media, the New York-based network of some 600 lifestyle sites and blogs aimed at women. Samir Arora, Glam's chief executive, says that one of the company's highest priorities is Tinker, a Web site that allows people to sign up for moderated streams of updates related to specific events, like the Oscars, the latest episode of "Lost" or the N.F.L. draft.
Mr. Arora believes that edited streams of conversations, culled from the social networks, can attract companies that are interested in advertising on social networks but are hesitant to position their brand next to unmediated Internet chatter.
THERE are dozens, maybe hundreds, of these kinds of projects, with varying levels of creativity and usefulness. With Facebook's announcement last week, there are sure to be more.
The main question is whether these developers are pursuing real business opportunities. Some might ultimately decide to charge for their applications. But users can always just flock to free alternatives.
And if the developers somehow find a profitable niche, that would pose another concern. These companies might actually end up inadvertently asphyxiating Facebook and Twitter, both currently unprofitable, by drawing users and advertisers away from those sites.
Executives at Facebook say that as the premier social engine of the Web, it will ultimately find a way to make money. For example, it could choose to transmit ads along with the activity streams of its members, and perhaps split the revenue with the developers, though it says it currently has no plans to do so.
Of course, once you prop open the door to the store and give the merchandise away, the money-making options tend to be limited.
Just ask Joe.