Following is a sampling of reactions from Michael Jackson's friends and admirers to his death: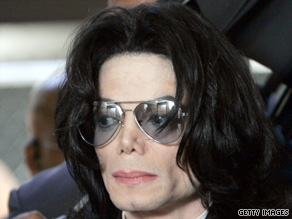 The Rev. Al Sharpton says people around the world should pary for Michael Jackson and his family.
Mariah Carey, singer:
"I am heartbroken. My prayers go out to the Jackson family, and my heart goes out to his children. Let us remember him for his unparalleled contribution to the world of music, his generosity of spirit in his quest to heal the world, and the joy he brought to his millions of devoted fans throughout the world. I feel blessed to have performed with him several times and to call him my friend. No artist will ever take his place. His star will shine forever."
Dick Clark, television and radio personality:
"I knew Michael as a child and watched him grow over the years. Of all the thousands of entertainers I have worked with, Michael was THE most outstanding. Many have tried and will try to copy him, but his talent will never be matched. He was truly one-of-a-kind."
Don Cornelius, host of the show "Soul Train":
"His passing will be grieved far beyond that of any other singer, composer, producer, dancer and choreographer, in the history of the world. Indeed, in my very firmest, personal, belief there will never, ever, be another Michael Jackson!"
Celine Dion, singer:
"I am so devastated by this terrible news. From the beginning of my career, he was my idol in show business. He was a genius and an incredible artist! I remember when I was growing up and watching him on TV, and all his videos…I had his poster on my wall…he was so amazing…his singing, his writing, his dancing. …It's unbelievable that he's no longer with us." 

Gloria Estefan, singer:
"The two great losses that we have felt today can only be balanced by the beautiful things that they left behind in our world. Farrah Fawcett and Michael Jackson will live forever in my heart as unforgettable and eternal."
Berry Gordy Jr., Motown Records producer and founder:
"I am somewhat numb. I'm shocked at the death of Michael Jackson. It's like a dream, a bad dream. He was so much like a son to me. It's just hard to realize that Michael Jackson is not here.
" … As a kid Michael was always beyond his years, he was an innovator, he was a genius at what he did. He had a knowingness about him. At 9 years old, when I first started working with him, he seemed to me like he had been here before. He was just so knowledgeable about life." 
Eddie Van Halen, played famous guitar solo on Jackson song "Beat It":
"I am really shocked, as I am sure the world is, to hear the news. I had the pleasure of working with Michael on 'Beat It' back in '83 — one of my fondest memories in my career. Michael will be missed and may he rest in peace."
Jim Henke, vice president of exhibitions and curatorial affairs at the Rock and Roll Hall of Fame and Museum:
"Michael Jackson was one of the most creative and successful recording artists of the last 40 years. He became an instant star when he was only 11 years old, fronting the Jackson 5. His solo career was so extraordinary that he became known as the King of Pop. Few other artists of his era reached the peaks that he did, both in terms of sales and critical acclaim. His legacy will live on for a long, long time. We join the world in mourning the loss of this twice-inducted member of the Rock and Roll Hall of Fame."
Whitney Houston, singer:
"I am full of grief."
Wyclef Jean, Haitian musician, actor:
"Michael Jackson was my musical god. He made me believe that all things are possible, and through real and positive music, he can live forever! I love Michael Jackson. God bless him."
Quincy Jones, conductor, composer, arranger, trumpeter:
"I am absolutely devastated at this tragic and unexpected news. For Michael to be taken away from us so suddenly at such a young age, I just don't have the words. Divinity brought our souls together on "The Wiz" and allowed us to do what we were able to throughout the '80s. To this day, the music we created together on "Off The Wall," "Thriller" and "Bad" is played in every corner of the world and the reason for that is because he had it all … talent, grace, professionalism and dedication. He was the consummate entertainer and his contributions and legacy will be felt upon the world forever. I've lost my little brother today, and part of my soul has gone with him."
John Landis, director of Jackson's "Thriller" and "Black or White" music videos:
"I was lucky enough to know and work with Michael Jackson in his prime. Michael was an extraordinary talent and a truly great international star. He had a troubled and complicated life and despite his gifts, remains a tragic figure. My wife, Deborah, and I will always have great affection for him."
John Legend, singer, composer:
"Michael Jackson will always be remembered as one of the greatest performers in the history of popular music. As a child of the '80s, I feel as though his music and his videos have been an inseparable part of my life and that of an entire generation. And the powerful thing about great music is that it will always live on. He was and always will be an icon. My heart goes out to his family, friends and countless fans for their tragic loss."
Madonna, singer:
"I can't stop crying over the sad news. I have always admired Michael Jackson. The world has lost one of the greats, but his music will live on forever! My heart goes out to his three children and other members of his family. God bless."
Neil Portnow, CEO of Recording Academy:
"Rarely has the world received a gift with the magnitude of artistry, talent, and vision as Michael Jackson. He was a true musical icon whose identifiable voice, innovative dance moves, stunning musical versatility and sheer star power carried him from childhood to worldwide acclaim. A 13-time Grammy recipient, Michael's career transcends musical and cultural genres and his contributions will always keep him in our hearts and memories. We are deeply saddened by this tragic news and our hearts go out to his family and to music lovers around the globe who mourn this great loss."
Lisa Marie Presley, musician and Jackson's ex-wife:
"I am completely shocked and saddened by Michael's death. My heart goes out to his children and his family."
Linda Johnson Rice, chairman and CEO of Ebony:
"I am deeply saddened by the news of one of the world's greatest and most influential entertainers, Michael Jackson. He was unquestionably an incredible and unique talent for the world to enjoy. I, along with my mother and father, John H. and Eunice Johnson, were extremely fortunate to have a great relationship with the Jackson family.
"In our hearts he will always be the The King of Pop, and I will personally miss him."
The Rev. Al Sharpton, civil rights activist:
"A friend of Michael's for the last 35 years, I call on people around the world to pray for him and his family in the hour. I have known Michael since we were both teens, worked with him, marched for him, hosted him at our House of Justice headquarters in New York, and we joined together to eulogize our mutual idol, James Brown. I have known him at his high moments and his low moments and I know he would want us to pray for his family." 
Brooke Shields, actress:
"My heart is overcome with sadness for the devastating loss of my true friend Michael. He was an extraordinary friend, artist and contributor to the world. I join his family and his fans in celebrating his incredible life and mourning his untimely passing."
Russell Simmons, co-founder of Def Jam Records:
"Michael Jackson was my generation's most iconic cultural hero. Courageous, unique and incredibly talented. He'll be missed greatly."
Britney Spears, singer:
"I was so excited to see his show in London. We were going to be on tour in Europe at the same time and I was going to fly in to see him. He has been an inspiration throughout my entire life and I'm devastated he's gone!"