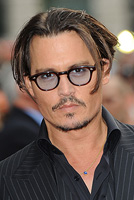 In "Pirates of the Caribbean: At World's End," Davy Jones asks Johnny Depp's iconic character, Jack Sparrow, if he felt dead. Sparrow replies, as might Johnny Depp right now, "You have no idea."
Despite untimely rumors to the contrary, not only is Johnny Depp very much alive, he's also just been named the runner-up in the much-ballyhooed Harris Poll. The poll, which measures public opinion on movie stars living and long gone, named Depp the second-most-loved Hollywood celebrity. Clint Eastwood came in first.
It's been an interesting week for Depp. Over the weekend, an Internet rumor that the 46-year-old star had perished in a traffic accident in France gained traction on Twitter. Then today, the "Public Enemies" star learned that he finished second in the new Harris Poll to an actor who hasn't been in a movie in over a year. (Clint was last seen in his 2008 film "Gran Torino"; he directed – but does not appear in – this year's critical favorite, "Invictus.")
John Wayne, who died in 1979 and hasn't been featured in a film since 1976, is the only actor to be ranked in the countdown every year since its inception in 1994. Wayne finished first in 1995, when he barely edged out this year's winner, Clint Eastwood.
Denzel Washington, who has finished in the top spot on the poll for the last three consecutive years, fell to No. 3 this year.
John Wayne aside, the Harris Poll has a history of honoring actors that haven't appeared in any recent films. Mel Gibson — who before this upcoming weekend's release of "The Edge of Darkness" has not starred in a film since 2002's "Signs" — topped the poll in 2003 and continuously ranked in the top 10 until 2006. Conversely, Meryl Streep, who has been nominated for 15 Academy Awards, made her first-ever appearance on the poll, finishing eighth. "The Blind Side" star Sandra Bullock was the highest ranking woman, finishing fourth.
The top 10 in this year's "America's Favorite Movie Star" Harris Poll (with last year's rank in parenthesis) is as follows:
1. Clint Eastwood (2)
2. Johnny Depp (8)
3. Denzel Washington (1)
4. Sandra Bullock (not ranked)
5. Tom Hanks (7)
6. George Clooney (not ranked)
7. John Wayne (3)
8. Meryl Streep (not ranked)
9. Morgan Freeman (9)
10. Julia Roberts (6)
Watch Johnny Depp in 'Alice In Wonderland'