This is a guide, how to unlock your mobile phone easily – All by yourself!
This is very useful, if you have bought a new Nokia mobile phone, locked to a provider, and wish to use a SIM-card from another provider.
Here is how it works: Start by downloading a program, that generate a code to enter on your mobile phone.
At the moment the program supports the following Nokia-models:
If your phone is NOT on the list, I cannot help you to unlock it.
Currently BB5 Phones, this includes N-series (Nokia N70, Nokia N71, Nokia N72, Nokia N73, Nokia N80, Nokia N800, Nokia N90, Nokia N91, Nokia N93i, Nokia N95), Nokia 6630 and Nokia 6680, cannot be unlocked by any way except requesting the code from your provider.
As soon as there's a solution or any news, it will be published here.
Please notice that this service is free for you to use, so i do not answer e-mails or calls about unlocking of Nokia phones. Please respect this.
Guide:
1 Download the program: DCT4 Calculator 5.4 – CLICK HERE
2 Unzip the file and start the program named Code Calculator 5.4.exe
3 Take the SIM-card out, and find the phones IMEI code (the phones serial number), by enter the code IMEI: *#06# on the phone. It's important that the SIM card IS NOT in the phone, during the following steps!!
4 Enter the IMEI code in the program
5 Choose Your country
6 Choose the provider, from which your phone is locked to.
7 Choose type: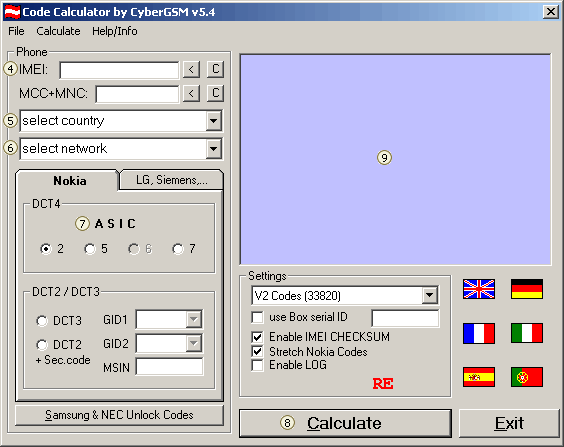 Type 5:
Nokia 3650
Nokia 3600
Nokia 7650
Nokia N-Gage           Type 7:
Nokia 6650
Nokia 7600 Â Â  Â  Â Â  Â Type 2:
All others…
8 Generate the code by clicking on Calculate
9 7 codes will appear in the blue field in the program. You will use the last code…
Code Calculator
Now you have to enter the whole code on your phone
The code has the following format: , where the X's are numbers.
1 – Enter "#"
2 – Enter "*" three times to write "p"
3 – Enter "*" four times to write "w"
4 – Enter "*" twice to write "+"
5 – Enter the 15 numbers
6 – Enter "*" twice to write "+"
7 – Enter "7"
8 – Enter "#"
Your Nokia phone is now unlocked.