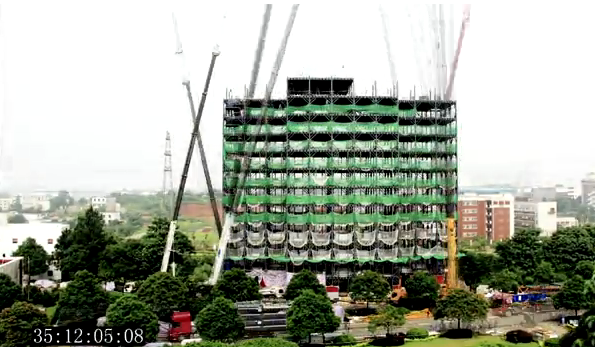 As the United States and China battle over the finer points of currency manipulation at the G-20 summit, American negotiators may want to take note of this startling testimonial to the productivity of Chinese workers: A construction crew in the south-central Chinese city of Changsha has completed a 15-story hotel in just six days. If nothing else, this remarkable achievement will stoke further complaints from American economic pundits that China's economy is far more accomplished than ours in tending to such basics as construction.
Meanwhile, it's easy to imagine the disorientation of Changsha residents who'd gone away, or who just hadn't recently ventured into the downtown neighborhood of the new Ark Hotel: "Honey, I don't remember a hotel there, do you?"
The work crew erected the hotel — a soundproofed, thermal-insulated structure reportedly built to withstand a magnitude 9 earthquake — with all prefabricated materials. In other words, a crew of off-site factory workers built the sections, and their on-site counterparts arranged them on the foundation for the Ark project.
Despite the frenetic pace of construction, no workers were injured — and thanks to the prefab nature of the process, the builders wasted very few construction materials. Below is a time-lapse video that shows the hotel being built from the ground up in less than a week:
China sets record for the world's fastest supercomputer
I imagine this is what the cold war felt like. China has unveiled a supercomputer that is 43 percent faster than any computer ever built (on Earth, by humans). Named the Tianhe-1A, it bests the previous record holder, the Cray XT5 Jaguar. China and Nvidia unveiled the supercomputer at the country's Annual Meeting of National High Performance Computing, or "HPC 2010 China," in Beijing Thursday.
Tianhe-1A was designed by China's National University of Defense Technology and is fully operational. It runs at a record 2.507 petaflops. A petaflop is a thousand teraflops, or one quadrillion (thousand trillion) floating point operations per second. It's insanely fast, basically. Tianhe-1A runs on 7,168 Nvidia Tesla M2050 graphics cards and 14,336 Intel Xeon processors. The cost: $88 million.
In a press release, Nvidia touted its role in the supercomputer. "GPUs are redefining high performance computing," said Jen-Hsun Huang, president and CEO of Nvidia. "With the Tianhe-1A, GPUs now power two of the top three fastest computers in the world today. These GPU supercomputers are essential tools for scientists looking to turbocharge their rate of discovery."
Changing hands
The supercomputer record is constantly changing hands. Just two years ago Intel held the record when its Roadrunner computer was the first to process at a petaflop. The U.S. is not entirely irrelevant either. Though China built the supercomputer, both Intel and Nvidia are California-based companies. The world of supercomputing moves quickly and it may not be long before the U.S. or another country takes the title. Still, amid all of China's recent cyber attacks, this news is a bit chilling.
Should we invest in more petaflops and kick China's butt or does it matter? One thing I always wonder is what anyone does with these supercomputers after they're built. Are they merely for show?