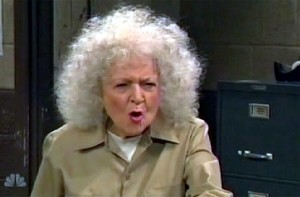 Betty White, the oddest comet in our crowded celebrity sky, did nothing to diminish her stature last night as she hosted "Saturday Night Live."
In fact, there was probably more at stake for the show, which has suffered this season from postelection ratings and creative depression.
That may help explain why it put the 88-1/2-year-old White into every skit, whether there was a joke waiting there for her or not.
The return of former "SNL" stars like Amy Poehler, Rachel Dratch and Tina Fey gave White a posse that formed the core of several sketches, including one in which White played the blunt-talking Grandma in a 1904 family parlor scene.
All the sisters are dressed in prim white dresses except Poehler, who enters with overalls and a basket out of which she pulls a fish.
As the others try to make Poehler more of a proper girl, White declares, "She's a lesbian." She declares this again, with slight variations, another dozen times.
She got to stretch more in a spoof on a National Public Radio talk show, where she played a guest invited to talk about her muffins for National Dietary Fiber Day.
"A baker of your age might tend to have a drier, more crusty muffin," said one of the hosts, setting the stage for an exchange of double entendres that, like most "SNL" sketches, lasted a little longer than the humor.
The show made a running gag out of White playing the grandmother of spoof movie hero "MacGruber," engaging him in absurd discussions that distracted him long enough that the explosives he was trying to diffuse all went off.
The writers seemed to make their own running gag out of finding a way to insert White's age in virtually every skit. They did upsize her from 88-1/2 to 90 for her "Weekend Update" commentary sketch.
The audience generally seemed to applaud as much for White's presence as for her jokes and seemed less surprised by the ongoing old-lady-talks-salty gags than her monologue, whose funniest lines had her trashing the Facebook culture that propelled her into the host gig in the first place.
She admitted she had never heard of Facebook before the campaign to put her on the show.
"And now that I know what it is," she said, "it seems like a huge waste of time. … At my age, if I want to connect with my old friends, I need a Ouija board."
It's possible that putting White in every sketch was a subtle commentary on the bizarre way in which she seems to have saturated popular culture over the last few months.
As she suggested in her monologue, however, overexposure isn't a bad problem to have at the age of 88 – and a half.
t's a wrap!
Betty White's long – anticipated appearance on "Saturday Night Live" was apparently worth the wait: The episode pulled in an 8.8 rating, the highest the show has scored in 18 months.
"She was a dream," "SNL" veteran Seth Meyers told a fan while he was strolling through the West Village Sunday afternoon, adding that having Amy Poehler and Molly Shannon on Saturday's show was an added perk.
So he wasn't intimidated by having all that girl power jammed into one ep?
Meyers chuckled: "The chicks have been ruling 'SNL' for years."
So that may explain why some night crawlers at the official after party at 1Oak – which was hosted by Jay-Z – were disappointed when Miz White was a no show.
"Beyoncé was there with Jay, and Quentin Tarantino and Swizz Beatz were also in the crowd," says a partygoer. "But people kept saying they hoped that Betty White would show up!"
Laughs our snitch: "It was probably just a bit past her bedtime."
SEEN & HEARD
Liev Schreiber stopping by Union Square eatery Republic on Friday, but just to use the men's room … Prince reserving five private tables for his entourage for breakfast at the Hudson Bar on Saturday morning … Tyson Beckford partying with an entourage at Polar on Saturday night while singer Brooks Wood hung with a slew of pretty femmes on the other side of the room….
Had enough of Betty White yet?
If not, NBC has released a sketch that never made it onto "Saturday Night Live" this weekend.
The network cut the "Debbie Downer" sketch, starring Rachel Dratch as everyone's favorite hypochondriac, over time constraints.
The 5-minute skit follows a group of suburban women who are enjoying a lingerie party – until Debbie shows up.
While the ladies attempt to bask in the glory of sheer negliges and edible massage oil, Debbie talks of crabs and misshapen breasts.
When one woman (Amy Poehler) asks Debbie how she became so neurotic, we flash back to one of her childhood birthdays.
The young Debbie waxes lyrical about her birthday cake, until her grandmother (White) proceeds to rain on her parade.
"Enjoy it now, kiddo," she says. "Gluten allergies are rampant in our family, you're eventually going to have to restrict."
Despite the sketch being cut, White's first night hosting "SNL" scored NBC its highest ratings in 18 months, according to Nielsen.